SIGN UP FOR YOUR FREE LSA HARD COPY SUBSCRIPTION AND/OR LSA DIGITAL EDITION WITH OUR COMPLIMENTS TODAY!

Lighting&Sound America is your monthly publication for lighting, sound, and staging professionals working in theatre, touring, industrials, corporate A/V, houses of worship, themed entertainment, retail, and much more. Sign up today!
Featuring:
The Metropolitan Opera kicks off the season with a triumphant revival of Porgy and Bess.

Hozier's Wasteland, Baby! Tour. With emotionally direct lighting and smart audio gear. 

Deadmau5's latest tour provides some mind-bending visuals and innovative sound. 

The Great Society on Broadway. Lighting a modern chronicle play. 

LSA Technical Focus products in-depth: 

Lectrosonics D-Squared
ADJ Hydro Beam X2
Ayrton Perseo-S



Video Matters with Richard Cadena
Audio File with Phil Ward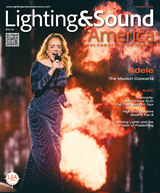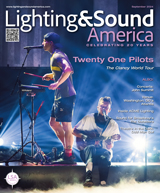 NEW LSA
DIGITAL EDITION!
SUBSCRIBE TO THE NEW LSA DIGITAL EDITION HERE!
CURRENT LSA SUBSCRIBERS - RENEW OR UPDATE YOUR LSA SUBSCRIPTION HERE