SIGN UP FOR YOUR FREE LSA HARD COPY SUBSCRIPTION AND/OR LSA DIGITAL EDITION WITH OUR COMPLIMENTS TODAY!

Lighting&Sound America is your monthly publication for lighting, sound, and staging professionals working in theatre, touring, industrials, corporate A/V, houses of worship, themed entertainment, retail, and much more. Sign up today!
Recently Featured:
Going Gaga. Inside the most spectacular Super Bowl halftime show ever.
The Eric Church Experience. The country music star's new tour puts him front and center.
Royal Shakespeare Company's stunning new production of The Tempest.
Bridging the River: Tilikum Crossing - Bridge of the People.
LSA Technical Focus First Look: JBL Professional VTX A12 Loudspeaker.
Video Matters with Richard Cadena: Green Hippo Hippotizer V4
Audio File with Phil Ward

LSA 2017 Wallplanner giveaway. Email LSA@plasa.org for a free copy or copies for your shop or school (supplies limited).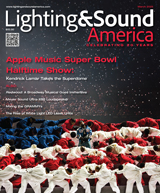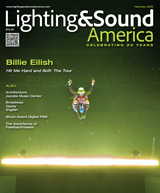 NEW LSA
DIGITAL EDITION!
SUBSCRIBE TO THE NEW LSA DIGITAL EDITION HERE!
CURRENT LSA SUBSCRIBERS - RENEW OR UPDATE YOUR LSA SUBSCRIPTION HERE