SIGN UP FOR YOUR FREE LSA HARD COPY SUBSCRIPTION AND/OR LSA DIGITAL EDITION WITH OUR COMPLIMENTS TODAY!

Lighting&Sound America is your monthly publication for lighting, sound, and staging professionals working in theatre, touring, industrials, corporate A/V, houses of worship, themed entertainment, retail, and much more. Sign up today!
Recently Featured:
The National Museum of African American History and Culture is a stunning addition to the Smithsonian's lineup.

U2's new tour finds new meaning for today in its classic album The Joshua Tree.

Doubleheader: creating systems that work for Enrique Iglesias and Pitbull on their co-headliner tour.

A House-of-Worship systems makeover at Hope Church near Memphis, Tennessee.

Agile Lens opens the door to virtual reality.

LSA Technical Focus product in-depth: GLP GT-1 Hybrid fixture.

Video Matters with Richard Cadena

Audio File with Phil Ward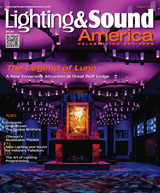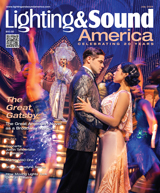 NEW LSA
DIGITAL EDITION!
SUBSCRIBE TO THE NEW LSA DIGITAL EDITION HERE!
CURRENT LSA SUBSCRIBERS - RENEW OR UPDATE YOUR LSA SUBSCRIPTION HERE