SIGN UP FOR YOUR FREE LSA HARD COPY SUBSCRIPTION AND/OR LSA DIGITAL EDITION WITH OUR COMPLIMENTS TODAY!

Lighting&Sound America is your monthly publication for lighting, sound, and staging professionals working in theatre, touring, industrials, corporate A/V, houses of worship, themed entertainment, retail, and much more. Sign up today!
Recently Featured:
Super Bowl LII:
Plenty of mirrors and more design and technical challenges than ever.

SpongeBob SquarePants:
The View from the Bikini Bottom. The world of SpongeBob SquarePants on Broadway, with found-object scenery, pop art lighting, and innovative sound.

Communicating Innovation:
Creating spectacular effects for the keynote at this year's Consumer Electronics Show in Las Vegas.

In an Olympic Light:
Projection at the PyeongChang Ceremonies.

LSA Technical Focus product in-depth:
Elation Professional Proteus Hybrid.

Audio File with Phil Ward

Video Matters with Richard Cadena

LSA 2018 Wallplanner poster - email LSA@plasa.org for extra complimentary copies for your customers, staff, friends, and families (supplies limited).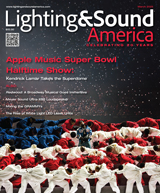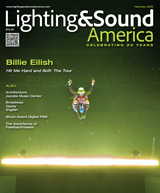 NEW LSA
DIGITAL EDITION!
SUBSCRIBE TO THE NEW LSA DIGITAL EDITION HERE!
CURRENT LSA SUBSCRIBERS - RENEW OR UPDATE YOUR LSA SUBSCRIPTION HERE