SIGN UP FOR YOUR FREE LSA HARD COPY SUBSCRIPTION AND/OR LSA DIGITAL EDITION WITH OUR COMPLIMENTS TODAY!

Lighting&Sound America is your monthly publication for lighting, sound, and staging professionals working in theatre, touring, industrials, corporate A/V, houses of worship, themed entertainment, retail, and much more. Sign up today!
Recently Featured:
Kings of Leon The Mechanical Bull Tour
Broadway: The Bridges of Madison County
Stanford University's Bing Concert Hall
Sonny Sonnenfeld looks back on nearly 100 years of entertainment lighting history
The Grammy Evolution
Jimmy Kimmel Live Goes Green
LSA Technical Focus products in-depth: Yamaha MGP24X Mixing Console and Pathway Connectivity Cognito
Audio File: Phil Ward
Video Matters: Richard Cadena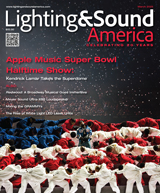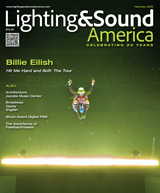 NEW LSA
DIGITAL EDITION!
SUBSCRIBE TO THE NEW LSA DIGITAL EDITION HERE!
CURRENT LSA SUBSCRIBERS - RENEW OR UPDATE YOUR LSA SUBSCRIPTION HERE