SIGN UP FOR YOUR FREE LSA HARD COPY SUBSCRIPTION AND/OR LSA DIGITAL EDITION WITH OUR COMPLIMENTS TODAY!

Lighting&Sound America is your monthly publication for lighting, sound, and staging professionals working in theatre, touring, industrials, corporate A/V, houses of worship, themed entertainment, retail, and much more. Sign up today!
Recently Featured:
Graffiti Artists. Keith Urban's new tour is not your typical country music show.

The Yard at the Chicago Shakespeare achieves new levels of flexibility.

An English-speaking design team boldly reimagines a German opera favorite in Vienna.

Panic! at the Disco's bigger, better touring package features a flying piano, video periaktoi, and a new sound system.

Emerson Colonial Theatre: a storied Broadway house is refurbished.

Parx Casino expands its purview with a highly equipped new live entertainment venue

LSA Technical Focus product in-depth: DPA d:screet CORE 6061

Video Matters

Audio File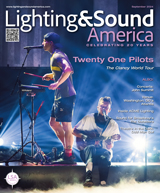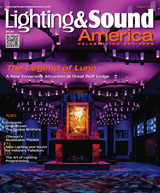 NEW LSA
DIGITAL EDITION!
SUBSCRIBE TO THE NEW LSA DIGITAL EDITION HERE!
CURRENT LSA SUBSCRIBERS - RENEW OR UPDATE YOUR LSA SUBSCRIPTION HERE