SIGN UP FOR YOUR FREE LSA HARD COPY SUBSCRIPTION AND/OR LSA DIGITAL EDITION WITH OUR COMPLIMENTS TODAY!


Lighting&Sound America is your monthly publication for lighting, sound, and staging professionals working in theatre, touring, industrials, corporate A/V, houses of worship, themed entertainment, retail, and much more. Sign up today!
Recently Featured:
MTV's 2013 VMAs take off from Barclays Center
Michael Jackson ONE - Cirque Du Soleil's new Las Vegas spectacle
Inside the NFL Kickoff 2013
SFJAZZ is the West Coast's center for America's signature art form.
Renaissance Man: Tony Walton with Sonny Sonnenfeld.
LSA Technical Focus: Solid State Logic and D.T.S. Max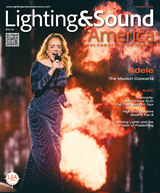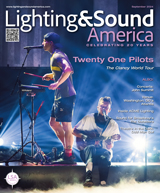 NEW LSA
DIGITAL EDITION!
SUBSCRIBE TO THE NEW LSA DIGITAL EDITION HERE!
CURRENT LSA SUBSCRIBERS - RENEW OR UPDATE YOUR LSA SUBSCRIPTION HERE